MEET THE KB WARRIOR INSTRUCTORS
Gavin Garringer
Gavin Garringer is a certified edged weapons instructor and Instructor of Jeet Kune Do
Concepts and Filipino Martial Arts under the Legendary Sifu Paul Vunak, founder and President of Progressive Fighting Systems.
Gavin's origins in the martial arts began at the age of 8 when he started taking traditional judo classes at his local Y.M.C.A. After several years he earned his blue belt and took a hiatus from traditional martial arts for a while playing many other sports including basketball, water polo, swimming, football and soccer. In junior high school Gavin competed in Greco roman wrestling for several years as well.
Martial Arts took a back seat until meeting Sifu Paul Vunak in 2007. That's when Gavin was introduced to Bruce lee's art of Jeet Kune Do, the way of the intercepting fist. Within two years of meeting Sifu Paul Vunak and Sifu Harinder Singh Sabharwal, Gavin had earned his blunt and edged weapons instructorship as well as his Jeet Kune Do and Filipino Martial Arts Instructorship. While training with Sifu Paul Vunak and Sifu Harinder Singh, Gavin has trained members of government agencies like the armed forces and local law enforcement. Currently Gavin is training extensively in Jeet Kune Do, Boxing, Thai Boxing, Brazilian Jiu- Jitsu and Wing-Chun.
In early 2009, Gavin was introduced to the Russian Kettlebell and Sifu harinder Singh's rigorous Action Strength martial arts physical fitness regiment. In August 2009, Gavin received his RKC Certified Kettlebell instructorship from former soviet Special Forces instructor and worldwide kettlebell and fitness Guru Pavel Tsatsouline.
Since 2009 Gavin continues to train extensively with Sifu Harinder Singh and many other martial arts masters. Gavin has been traveling around the country and world assisting Sifu Singh with seminars ranging from Action Strength to Martial Arts. He has worked with such organizations as S.W.A.T. teams, several other police agencies, and government agencies like the Secret Service. Gavin has also been a guest instructor with Sifu Harinder Singh at such events like I.L.E.E.T.A. (International Law Enforcement Educator & Trainers Association).
Gavin is currently an Action Strength training officer in Sifu Harinder Singh's Jeet Kune Do Athletic Association. While Gavin is dedicated to pursuing and training at the highest level of martial arts, his commitment to passing on the knowledge he's gained remains his singular goal.
Brian Olsen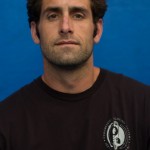 Bio Coming Soon…






Austin Langley
Bio Coming Soon…